9 Expert Tips for Crafting the Perfect Instagram Bio
Abella skin Inc
What's the secret sauce for crafting the perfect Instagram bio?
Should you stuff this space with emojis, hashtags, and keywords? Or should you stick to the basics and only share a brief pitch, profile photo, and contact details?
Short answer: it depends on what's right for your audience.
I've seen the best Instagram bios actually use a combination of all these techniques mix-mashed together.
Racking up those followers ain't just gonna happen by itself. You need a super juicy bio to MAKE people want to follow you.
This guide is a blueprint for everything you need to make that magic happen.
You'll learn the essentials of every successful Instagram bio, along with nine expert tips to attract new followers and convert them into raving fans (with real-world examples).
Let's dive in. Instagram glory awaits.
Instagram for Business: A No-Brainer in 2020
Instagram is the second most downloaded app (after YouTube).
Instagram is so powerful, that companies like Wishpond have created awesome guides explaining how marketers should use Instagram for business growth.
Awareness is the name of the game. And Instagram does exactly that. It's the reason why over one billion people use Instagram every month.
More than 90% of users follow a business, and 200 million users visit a business profile at least once each day.
Instagram users are active shoppers. Roughly 6 in 10 users log in daily; then, they spend an average of 53 minutes engaging there. Whoa.
Stats show a staggering 83% of users discover new products and services on Instagram. And 79% searched for more info after viewing a product or service, while 46% made a purchase.
So Instagram is a verifiable gold mine for growing brand awareness, guiding new leads to your website, and engaging with your current customers.
But this only happens if you have a solid Instagram bio that stands out and encourages people to follow your brand in the first place.
Let's dissect the basics of an Instagram bio so you can hack yours for greatness.
8 Components of a Successful Instagram Bio
There are eight essential parts to every Instagram bio, and you'll need to address each of them to take advantage of this limited space.
Let's break down the Instagram bio of famous author and self-help guru Lewis Howes to give you a better idea of how each component works: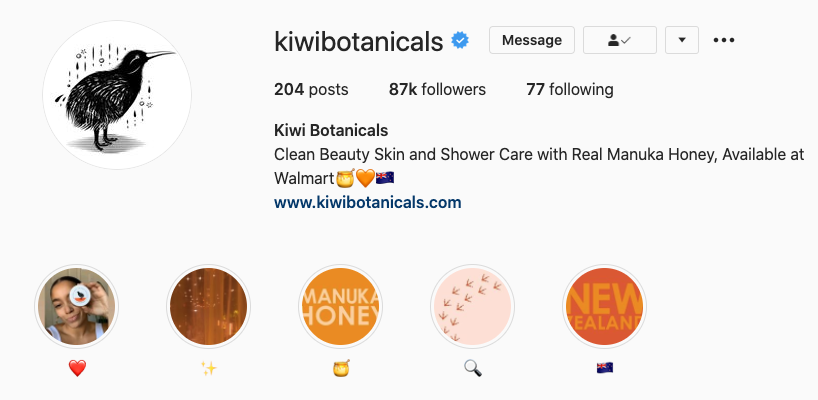 Like him, you'll want to optimize each item, including:
1. Your Username: It made the most sense for Lewis to use his actual name as his username. But your username may be your company's name or a close variation, depending on what's available.
2. The Verified Checkmark: Go the extra step to show you've been verified in Instagram's eyes, and your brand will appear trustworthy and legit. It also helps new followers feel certain they found the right account to follow.
3. The Name Field: You may be tempted to use this field to simply reiterate your name or username. But that's actually not the best tactic for this space. Instead, you should use the name field wisely by adding keywords that describe more about what you do.
Despite Lewis using his real name in our example, we'll show you how to go the extra mile with a better approach later on.
4. Your Bio:Here's where we'll spend the most time on optimization. Since you only have around 150 characters or less, you must create a brief, visually appealing message to introduce yourself. Don't worry, you'll learn how to do this by the end of this guide.
5. Contact Information: Lewis was smart about putting his contact information in both his bio and story links. This is something you may want to replicate if you have the room.
However, if you need all the bio space you can get, leaving your contact information in the Story Highlights works, as long as it's upfront and visible.
6. Call to Action (CTA), plus website link: Make sure to leave room in your bio for a simple CTA. This will guide users to take the next step with your brand by visiting the link you provide. Lewis' example does a wonderful job of this.
7. Story Highlights: Put some thought into your Story Highlights to offer your existing and new followers more information about your brand and quick resources they can interact with. We'll dive into more (and better) examples of this throughout our guide.
8. Brand Photo: Your brand photo may be the first impression you make with your potential followers. So it has to be stellar and easily recognizable.
Stick with your business logo if it's well-known and representative of your brand. Or choose to show the brain behind the brand, like Lewis does, so people feel like they're interacting with a real person instead of a business.
Now that you understand the basic components, let's dive into how to optimize your bio like a pro-level influencer.
9 Expert Tips for Crafting the Perfect Instagram Bio (With Real-World Examples)
Instagram wizards use nine unique techniques to create a bio that captures their audience's attention and gets their followers to take action.
So you can't just hand-pick your favorite ideas, cross your fingers, and hope you've done enough. Tackle each step, however, and you'll have an Instagram bio worthy of the big leagues.
Here's how:
1. Show Off Your Brand's Personality
Your Instagram bio is an ideal place to show off your brand's unique personality.
Now's the time to show people why you're different from your competition. Take the opportunity to use your brand's color palette, relevant emojis that make sense, and creative copy.
These steps will help make your brand more personable with your target audience. And connecting on this level also allows you to resonate better with them.
Let's check out two examples that follow this mantra: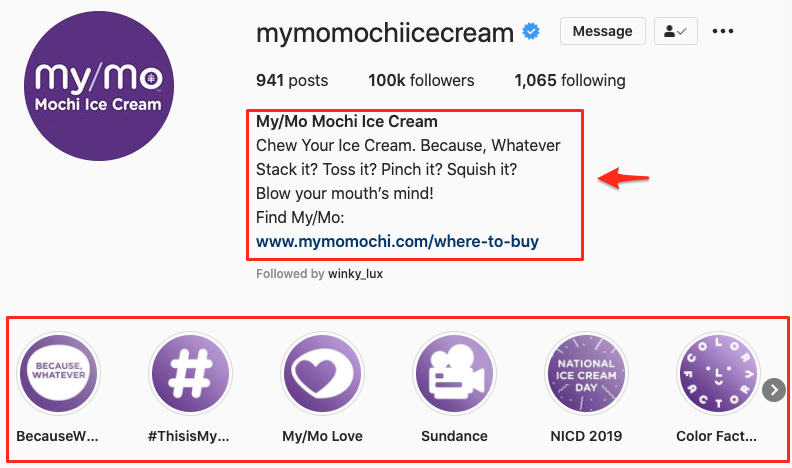 My/Mo is an ice cream brand specializing in a variety of Japanese mochi flavors. But it's not just their ice cream that stands out — so does their Instagram bio.
While they don't use any emojis (probably because there isn't a mochi one yet), they do squeeze in snippets of their brand identity and personality in the short bio space.
You'll notice the copy is funny, cheeky, and speaks directly to their audience. They also use their branded purple and white color scheme throughout their bio. All these choices are excellent to mimic.

Actor Eric Stonestreet's Instagram bio shows off his personality and comedic sense of timing while talking directly to his (potential and current) followers.
It reads naturally and comes off as authentic and genuine, making it a prime example to follow if you're trying to represent yourself and your personality within your brand.
2. Write an Instagram Bio for Your Target Audience
As you write your bio and try to weave in your own personality, it's vital to remember that the focus should be on your audience more than your brand.
This may sound confusing since your bio is basically about you (or your business). So it helps to think in terms of what your target audience may be searching for, and what prompts them to connect.
You want to show new and current followers that you know what they're looking for before sharing more about yourself.
Since this space is short (150 characters or less), so you need to think about this and test out a few variations. Your job is to hit on the important pieces first and offer supporting information next.
Check out how these accounts tackle this step: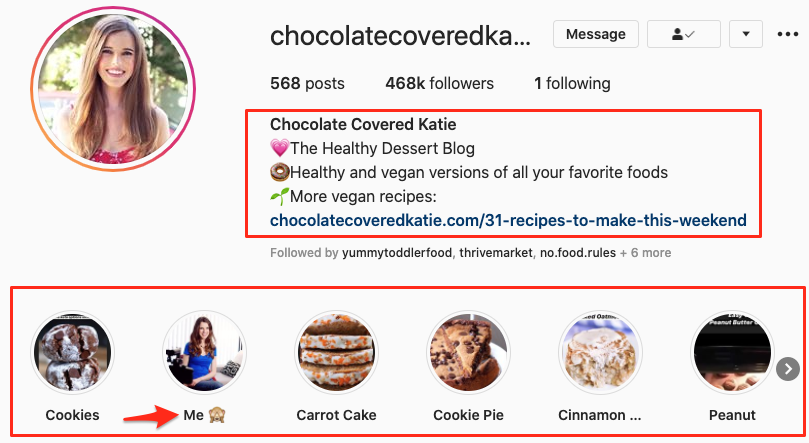 Healthy dessert blogger Chocolate Covered Katie does a fantastic job of thinking about her audience before promoting her brand.
She uses a short, simple description to let her followers know what they can expect from her page. Katie also has a link to more recipes, along with Story Highlights of her delicious treats, to help people engage with her page immediately.
She even added some personality with the emojis in her bio and the monkey emoji next to her "Me" story. These are all smart ways to connect with your followers.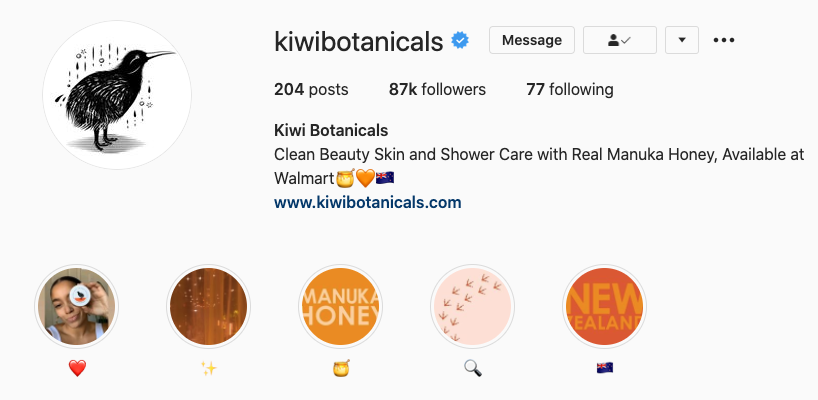 Australian-based skincare company Kiwi Botanicals also does an incredible job of telling people what they can expect from their brand.
In one short sentence, everyone knows that they're in the business of making "clean beauty skin and shower care with real Manuka honey." It also tells US-based followers that they can buy their products at Walmart.
Since people know they can easily find their products right off the bat, they're encouraged to learn more about the brand and stay in the loop.
3. Use Keywords and Hashtags (Where It Makes Sense)
Adding keywords and hashtags to your Instagram bio gives you a better chance of discoverability. When people search for these terms or browse the Explore page, they'll find your bio with the corresponding keywords/hashtags, and check out your content.
So which keywords and hashtags do people use to search for your business? Make a list, and strongly consider adding them in your bio where they make sense.
These profiles use keywords and hashtags to grab new followers and push them to take the next step: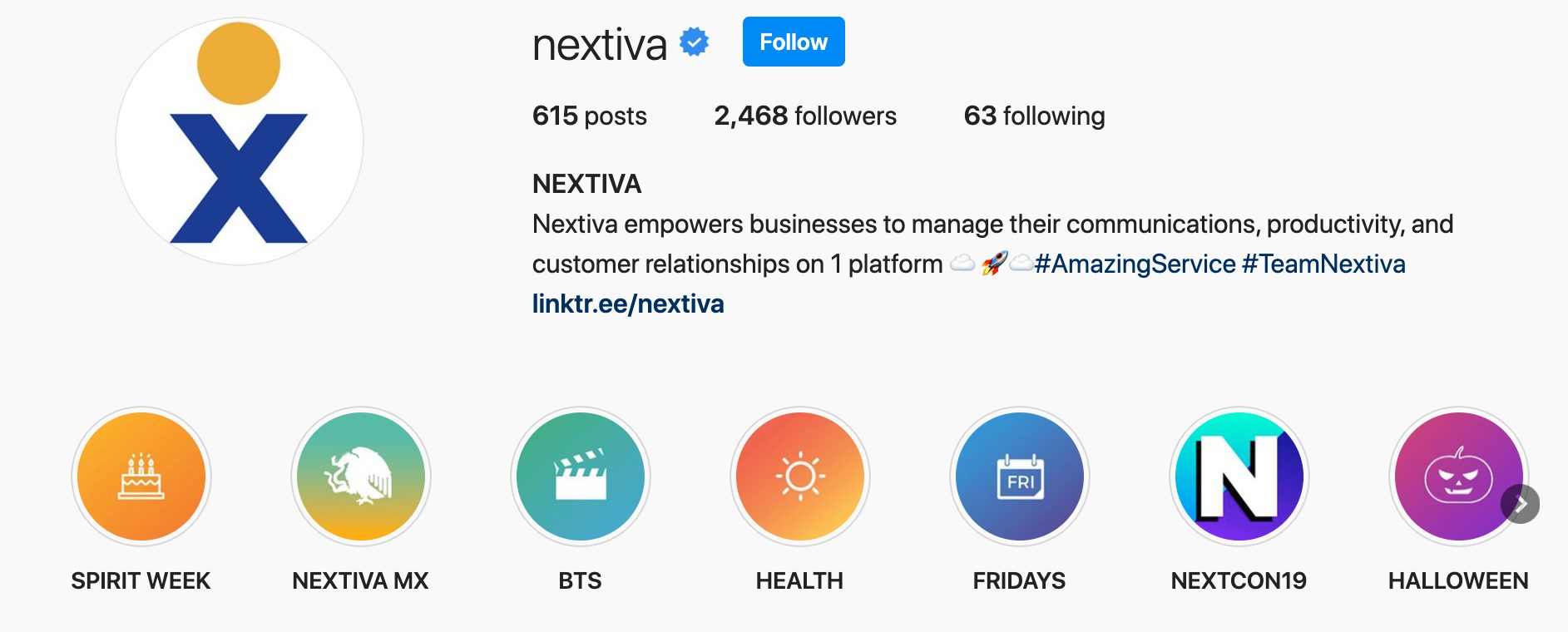 Nextiva is a business VoIP provider, based out of Scottsdale, Arizona. They've made an interesting use of hashtags in their bio. Specifically, they are focusing on branded hashtags, #AmazingService and #TeamNextiva as a branding element for their business. Basically, they have created their own hashtags, which is a unique way to stand out!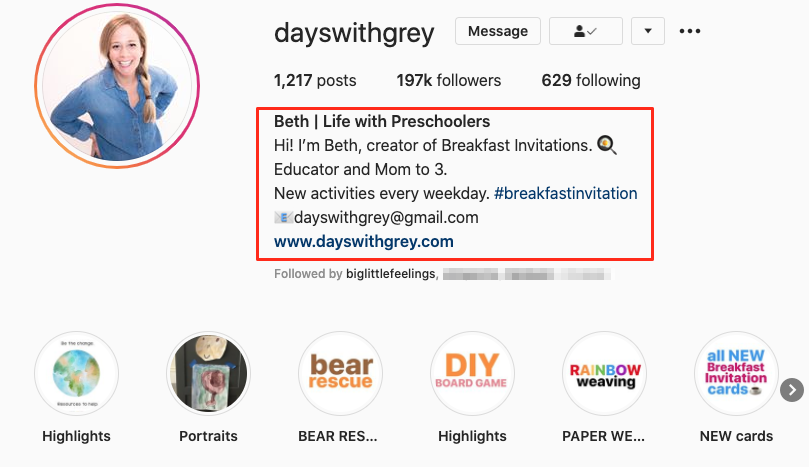 Beth, a mom of three and activity creator behind Days with Grey, hits on a few tips in this guide. She shows off her personality, speaks directly to her audience, and gives people exactly what they're looking for: new activities every weekday.
Despite only using one hashtag, #breakfastinvitation has over 2k posts for her audience to engage with.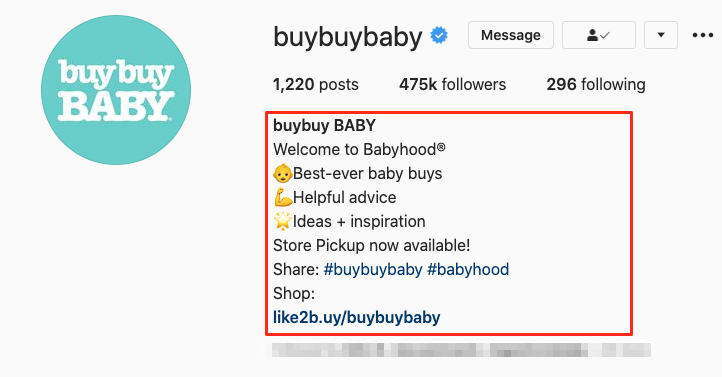 Well-known baby brand, Buy Buy Baby does a phenomenal job of turning their brand name and trademarked slogan into hashtags (#buybuybaby and #babyhood). This helps them both promote their brand and come up in searches.
The Buy Buy Baby bio also contains relevant emojis, shares what readers can expect to find once they hit the follow button, and manages to offer two CTAs (share or shop).
4. Use a Compelling CTA
It's great when you can pack your Instagram bio with personality. But it's even better when your profile encourages users to take action.
So does your current bio prompt people with an enticing offer that's too hard to resist? If not, how do you get to that point?
A clear CTA spells out precisely what's in it for someone when they click on your link.
And these two examples show how compelling your CTA can be when done right: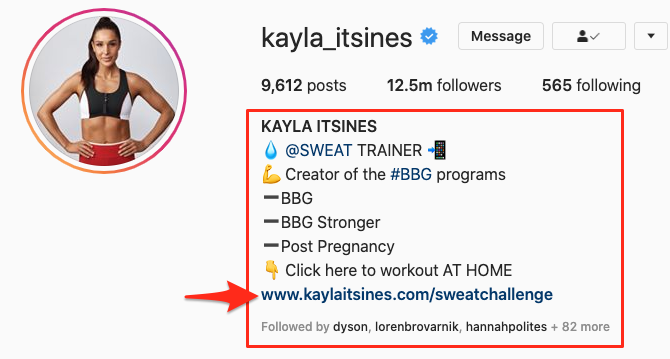 Fitness trainer Kayla Itsines has an easy-to-read profile explaining what she does and how new users can join in.
With her CTA and pointing finger emoji, people are directed to sign up for a home workout that's part of her "sweat challenge."
Using a full URL here shows people where they'll be going and what they'll be getting into once they click the link in her bio. This makes following her CTA appear more trustworthy and less risky.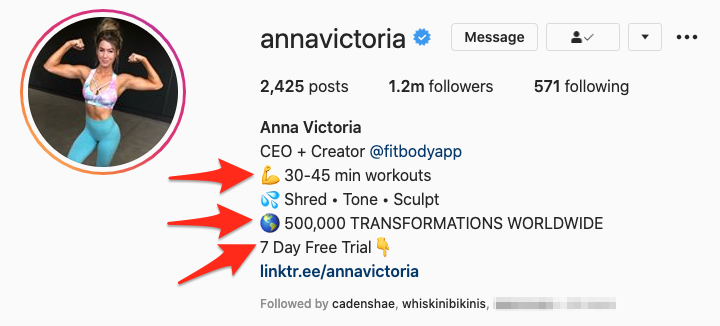 Another popular fitness influencer, Anna Victoria, takes a similar approach to Kayla but does things differently (and better, in our opinion).
Not only does she offer a free trial — something Kayla doesn't mention in her at-home workout link — but she also describes her workouts (30-45 minutes) and uses social proof (over 500k transformations worldwide) to let users know even more about her product before signing up to try it.
This is helpful because while Kayla uses a real URL for her CTA, Anna has a shortened URL in her bio.
If you can avoid a shortened URL, you definitely should. Seeing a full URL helps people know they're not clicking anything spammy.
However, if you run out of space and have to use the latter, it is what it is. Just be sure to provide all the information someone would need upfront to establish that base layer of trust as Anna does.
5. Have Contact Information Available
Another thing you'll want to squeeze into your Instagram bio, whether in your stories or the actual description itself, is a way for people to reach out should they have questions.
While users can send direct messages (DMs), it always helps to have an alternative form of communication in case people don't feel comfortable DM'ing your account.
Let's see a real-world example of this: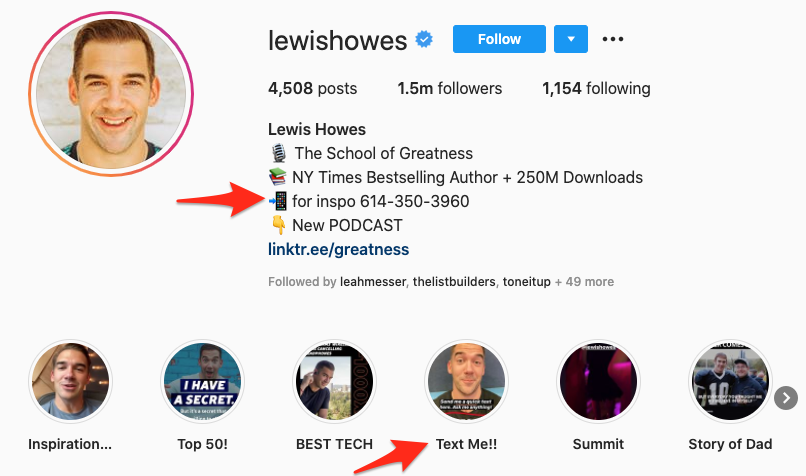 Remember our first example with Lewis? Did you happen to catch all the ways he gives people a chance to reach out? They can text the number in his bio for inspiration, or even text him directly.
6. Choose the Perfect Profile Picture
Instagram relies on visual media. So don't be surprised if people make a snap judgment about your brand after only glimpsing the tiny thumbnail that is your profile photo.
That's why it's critical to choose an easily recognizable, eye-catching picture to make the best first impression.
If you're using an image of yourself, make sure you're not too far back or too close to the camera. Smiling helps make an immediate, personable connection. A shot of you at work or doing something relevant to your brand also makes sense.
If you're using a brand logo, avoid using anything too small that may become hard to read or unrecognizable when resized for Instagram's parameters.
So far, all of our examples have done well in this department. But here are two more for extra inspiration:

Let's check out Don Gaetano, music producer and songwriter based out of Miami, FL. This was an interesting approach. He chose not to use a real photo of himself, but the illustrated version of his image actually stands out more. This image captures his essence and personality to give people an idea of who's behind the brand.

Famous model and Instagram influencer Chrissy Teigan helps her profile picture stand out by going with a black and white theme. Naturally, she strikes the perfect pose too.
7. Space Out Your Bio. Make It Visually Appealing.
Even though your Instagram bio is short on real estate, you don't want to crowd this tiny area with a wall of chunky text. Doing this will immediately turn away casual users who don't feel like reading a novel to learn about your brand.
That's why it's best to give your text some much-needed breathing room.
Skip the paragraph info-dump and try to write short lines of informative text similar to a bulleted list. These are easier to scan and make a stronger impact.
It's even better if you use relevant emojis as your "bullet points."
A Color Story is probably my favorite example of this technique.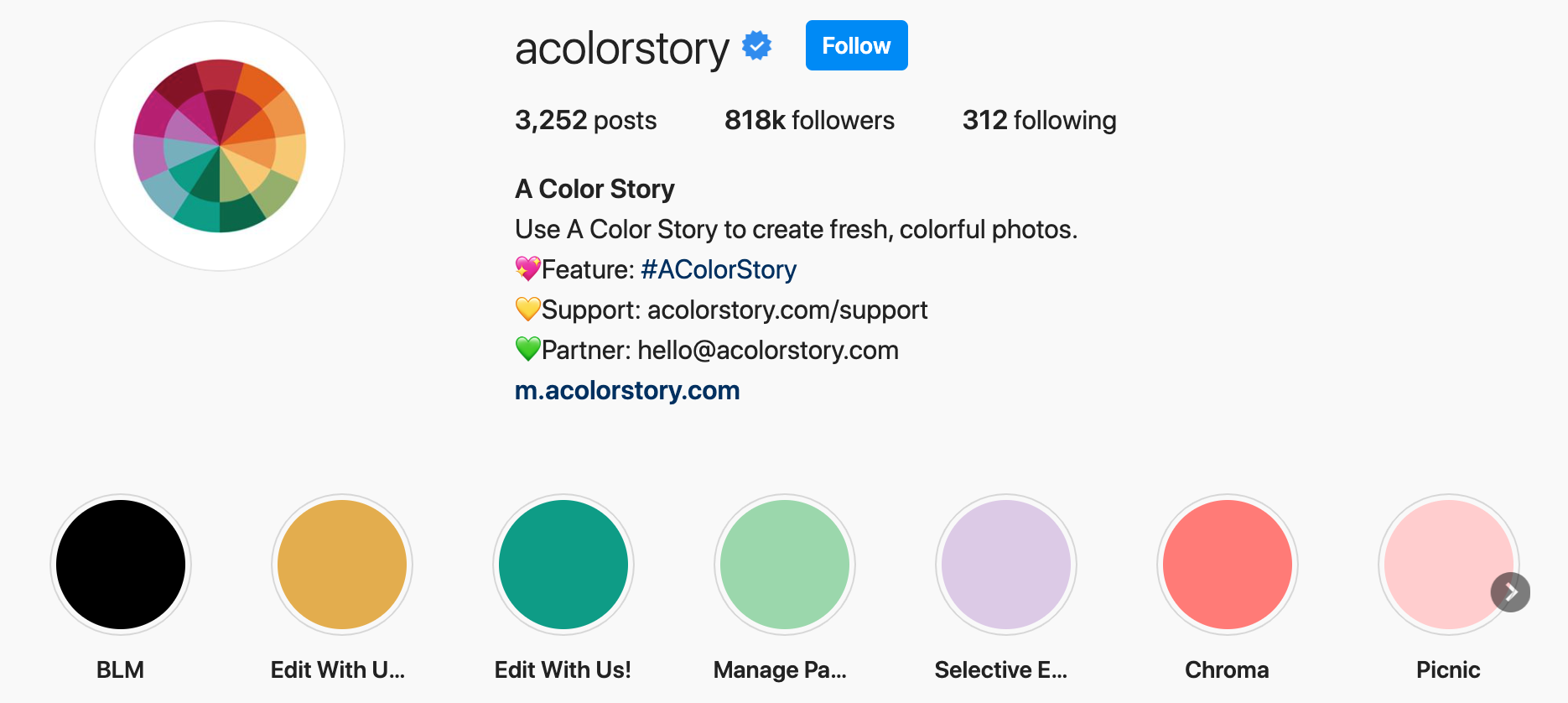 8. Add Emojis for an Extra Visual Pop
Adding emojis that tie into your brand imparts another layer of personality and helps you come across as more personable.
It shows new followers that even though you're a professional account, you're still fun, approachable, and relatable.
As the examples in this guide have shown, using emojis is encouraged and appreciated. However, it comes with a caveat.
You don't want to use emojis just for the sake of doing so. That cactus or arm flex emoji may be trending, but if it doesn't make sense for your brand, pick one that does.
If you'd rather take a more no-nonsense approach, you can use emojis that are symbols in the business world (such as blocks, circles, or dashes) for the same effect.
This profile shows you how to master either option (or combine them):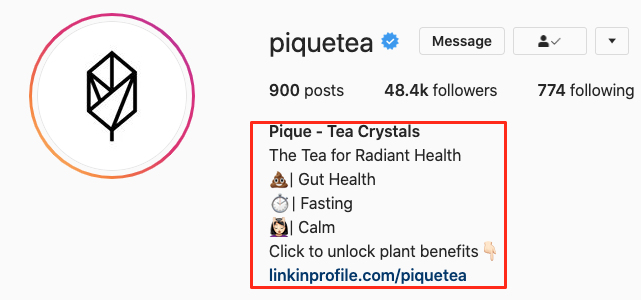 Pique Tea uses emojis — including the poop emoji! — to emphasize the benefits of drinking tea in their bio's fun, bulleted list.
Despite using the poop emoji, the brand still comes across as professional because the emojis actually reinforce the benefits and strengthen the impact of the text.
9. Use Story Highlights
Even though Story Highlights may be last on today's list, don't let them become an afterthought.
An amazing series of Story Highlights gives people a branded insight into what's new or at the core of your company. And they'll quickly guide users to learn more.
That's why they deserve just as much attention as the rest of your Instagram bio.
And it's why these companies have taken full advantage of them: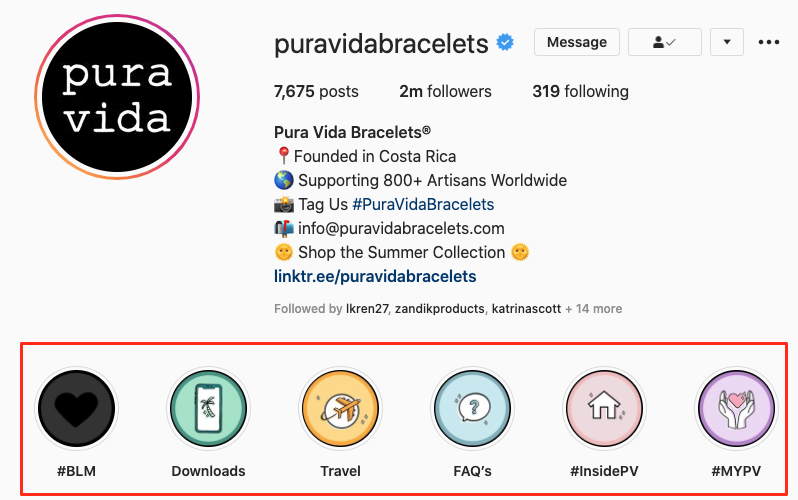 Costa Rican jewelry company Pura Vida Bracelets uses their Story Highlights to showcase causes they care about and share free downloads, travel tips, and FAQs.
Users gain an inside look at their company through neatly color-coordinated story highlights.
With this specific and well-thought-out order, it makes users want to click through each video and engage with the company before scrolling to the next profile.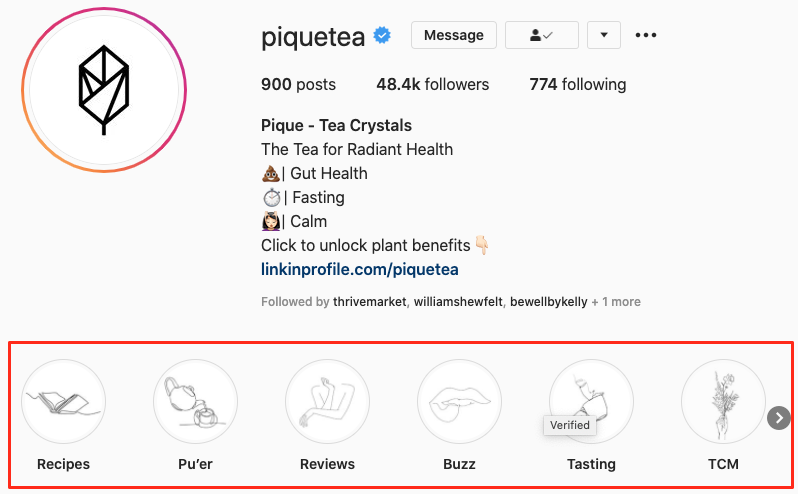 Pique Tea, the tea crystals company mentioned earlier, uses their Story Highlights to share information they want their potential and current followers to know.
This time, they offer people glimpses into what's central to their brand: information about different types of teas, tastings and reviews, traditional Chinese medicine, etc.
Using Story Highlights this way helps people learn about your brand as if they've stumbled upon an expanded version of your bio in visual form.
Ready to Craft The Perfect Instagram Bio?
With all the examples and expert tips highlighted in this guide, you now have everything you need to create an Instagram bio that stands out, encourages more people to follow you, and guides them to take the next step with your brand.
Use today's inspiration to write a profile bio that ticks all these boxes yet remains entirely your own, and you'll be in good shape.
Don't forget: crafting the perfect Instagram bio doesn't happen on the first try. You should draft several versions to find the one that best shows off your personality and tells users why they should follow you.
Then, keep updating your bio as your brand and fan base grows to stay relevant in the sea of accounts vying for their attention. via Wishpond https://ift.tt/3kG6m6i
https://shemarketplace.com/the-dos-and-donts-of-email-marketing/