14 Blogging Instagram Tips and Tools to Master the Gram
MFW Foundation
Did you know you can blog on Instagram? Yup, you read that right, you can use Instagram to grow your followers and readership all in one place. It's not impossible. Instagram users spend almost as much time on the platform as Facebook users. They browse for an average of 53 minutes per day versus Facebook's 58 minutes per day.
Instagram is a platform where people look for engaging content and consume it just as fast as it's posted. After all, there are two main aspects of an Instagram post; the image and caption. Plus captions are powerful tools that can increase engagement, likes, and can even get you on the Explore Page!
Today we'll talk about 14 blogging Instagram tips and tools to master the gram! We'll be covering how to effectively use Instagram as a blogging platform, how to attract and find readers, and so much more!
---
1. Select and Stick to Your Blogging Niche
I am assuming that you've already filled out and completed your Instagram account. The next big task is to find out what kind of blog you'll be hosting on your Instagram profile.
What's your blogging niche
If you already know what you'll be writing about, then automatically, you'll know how to write your blog articles, create images, and use hashtags that relate to your target audience.
Once you've positioned yourself in a niche you should stick to it. For example, if you're a fitness blogger, you shouldn't be writing about how to fix a car. Likewise, if your niche is about cars, then you shouldn't be blogging about yoga pants. You'll only end up confusing your audience and making it harder for you to gain a solid following on Instagram.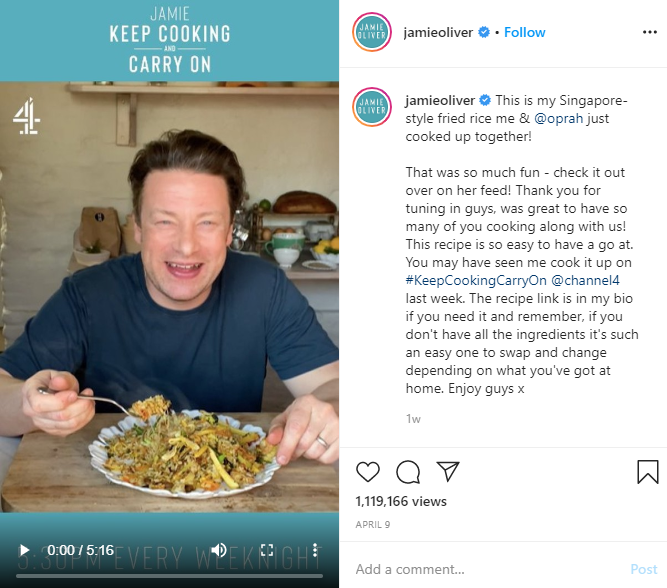 Asking yourself what kind of niche you'd like to write on is a simple but powerful question that will direct you to your Instagram tribe. So spend time wisely deciding which niche you'd like to write about because once you pick a niche you'll need to stick to it for the long run.
2. Make Use of Your Bio & Link
There is a tiny space on your account that can help you to increase email subscribers, readers, and pitch to Instagram users that you could be ignoring right now; that's your bio and website link.
Instagram allows you to fill your bio with at least 150 characters, including hashtags, tags or mentions, and emojis. Think of your Instagram bio as an elevator pitch because you have a short amount of time to convince a new visitor that your page is worth following and it should grab their attention immediately.
Check out bloggers in your niche and see how they structure their bio's, this can give you an idea of what you should be writing about, and you can use these 6 steps for writing a powerful elevator pitch.

As a blogger, you need to make use of all the digital real estate you can get. This means using your link to collect leads. After all successful bloggers don't just have a massive following. They also have a massive email subscription list to boot.
These are called leads. These are people you can update on new blogs, events, projects, and sell products to or share with a brand that wants to partner with you.
Ready to gather some leads on your Instagram blog? Start by creating a lead magnet!
A lead magnet is a bait you offer to your leads to get them to convert on your form and become a lead. This could be a free checklist, a free meal plan, and a free consultation.
Or you can use gated content, where they can only access your lead magnet once they provide information in exchange. You can gate content by guarding it with a signup form, asking for their email, first name, and anything else you'd like to know.

If you don't have a website to host your lead magnet, you can create a landing page. Wishpond offers an easy to use landing page builder called Canvas. No coding required, easily drag and drop your elements into place without restrictions, plus mobile optimization, and more.

3. Use Blogging & Relevant Hashtags
Hashtags will help your content to get easily discovered by your target readers. Without it, your Instagram blog post will be lost in an endless sea of content.
Hashtags act as little discovery tags that allow people to find you and allow your content to be easily associated with your niche. If you're a fashion blogger, then you'll need to use fashion hashtags.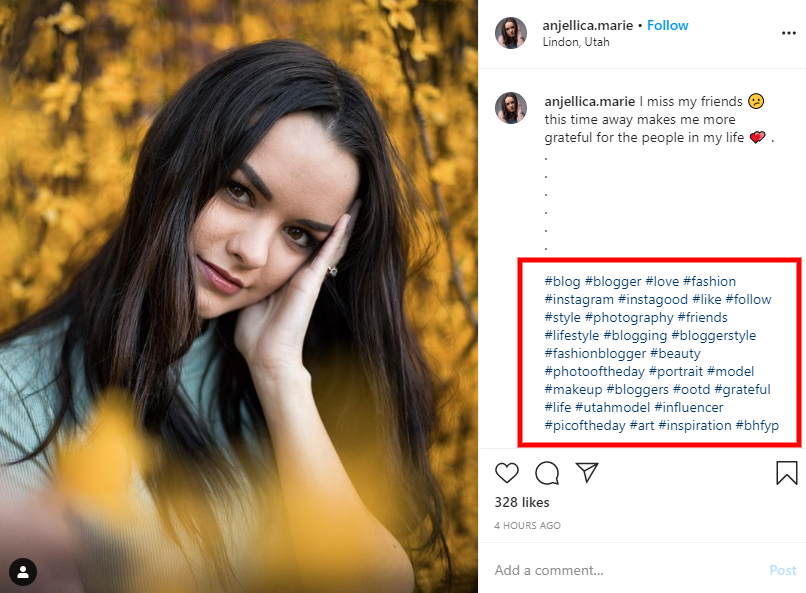 Not all hashtags are good. The right hashtags can attract the right follower. Likewise, the wrong hashtag can attract the wrong crowd. So be mindful of the 30 hashtags Instagram allows you to use in your Instagram blog post.
Also, check how often your selected hashtags are used. If the hashtag has under 100 users/posts, then it's doubtful that people are using or searching for them. This is why popular hashtags get used over others because they attract a big crowd. Research your hashtags and pick the hashtags with the most like
Here's a list of the most popular hashtags: The Ultimate List.
4. Use CTA's in Your Post
Call to actions or CTA's are words you use to highlight an action you want your readers to take. It can be as simple as saying "Click here" or "Shop Now".
For instance, we know that social media apps reward posts with high engagement rates like more comments, likes, and shares. Sometimes you have to push readers in the right direction to drive engagement to your Instagram blog, which means asking them to comment by answering a question or sharing an experience.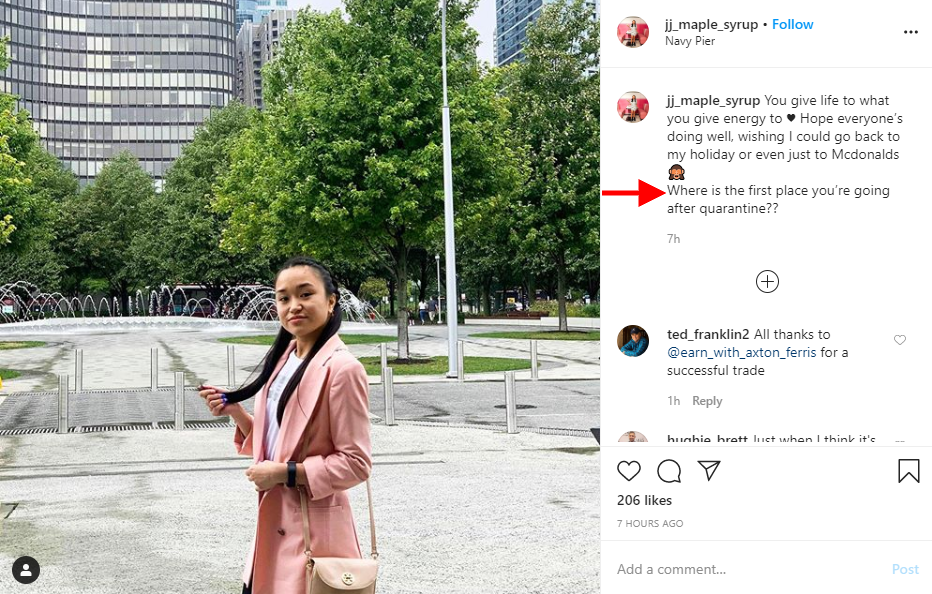 If you're unsure about what kind of CTA's you should be using in your post, then try these 7 CTA's to generate leads from your blog.
5 Be Authentic & Share Stories
You've probably heard this a thousand times, be authentic. But we tend to say this phrase a lot because that's what people easily connect, share and want to consume on social media. As much as we like glitz and glam, people love authentic stories even more.
Maybe that's why some influencers have lost their touch with their followers because they've gotten so famous that they seem so far out of reach that it feels more like a brand than a person interacting with them.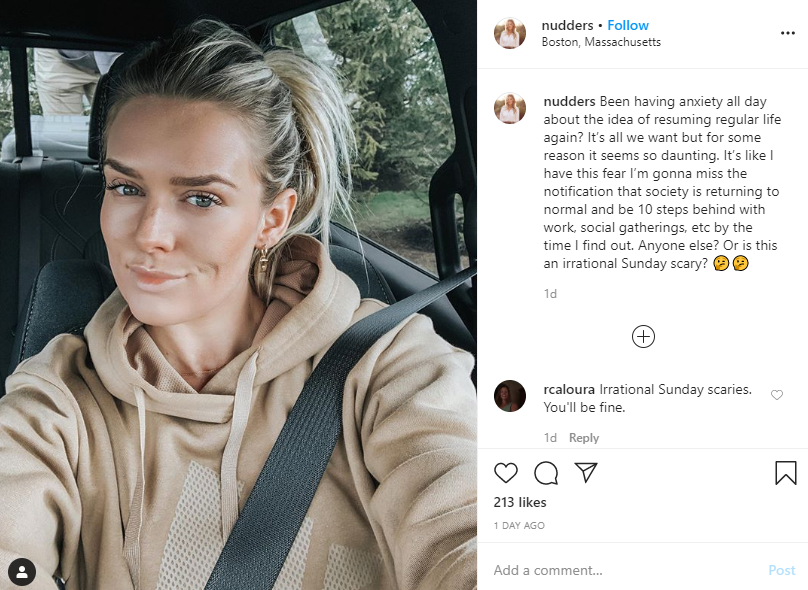 The truth is it's the bloggers and influencers that feel authentically and relatable that have a strong community of followers and readers who stay around for the long run. They are the ones who have no problem connecting with their followers.
The number one way to be authentic on Instagram, especially when blogging, is to be yourself, people follow bloggers because they love the tone, emoji's, stories, and tips that they share from a personal place. Pretending to be someone else or trying too hard is a big red flag, especially in the Instagram community, where people can easily pick up and ignore you for it.
To get started here's a guide on how to be authentic in an Instagram world (And why it's important).
6. Use Amazing Photography or Images
You might have to spend hours typing away an amazing blog to post on Instagram, but if your Instagram post's photography or image is terrible, not many people are going to stop to read it.
After all the top reasons for using Instagram are for looking at photos and videos.
Remember, thousands of pictures are posted on Instagram every second. If you don't have an eye-catching post, your post will be just another one lost in your followers feed..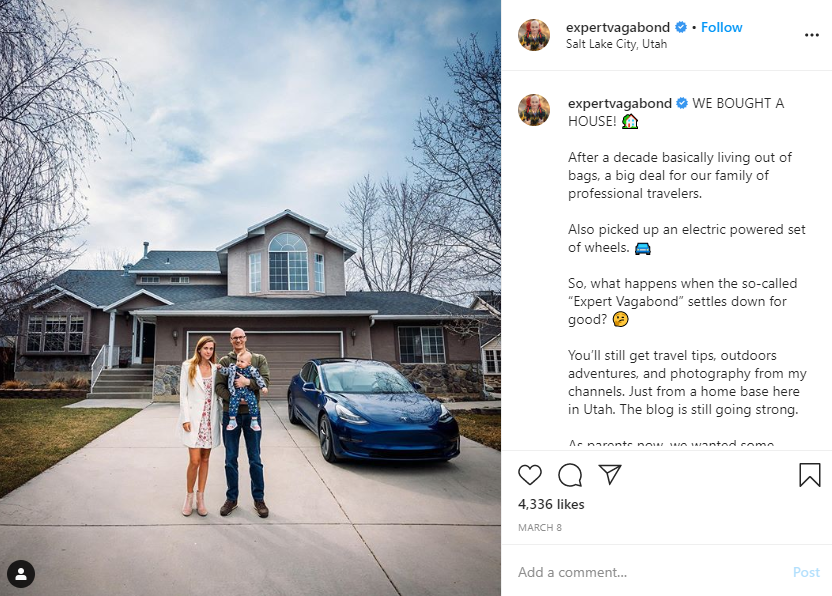 Here are some tips when choosing the picture or photography for your next Instagram blog post:
Have good lighting. No one wants to see a dark photo they have to squint their eyes to look at, ensure that you have good lighting, and viewers can easily identify what you're posting.
Give your photos a face-lift. With photo editing apps like VSCO or use Instagram built-in filters and editing tools.
Show your face! Did you know that pictures with human faces are 38% more likely to receive likes than photos with no faces? That's right, pictures with faces, especially with smiles.
If that's not enough here are 200 Instagram photos: Examples, ideas and resources for your blog.
7. Connect with Fellow Bloggers
Instagram is also a place you can find fellow bloggers to connect and collaborate with for future projects. By collaborating with other bloggers, you can combine your audiences and help to increase each other's exposure. That's called co-promotion or co-marketing.
If you're ready to collaborate with other bloggers, but you're not sure where to start, you can use the following tips:
Use hashtags to find other bloggers. If you can use hashtags to let readers find you, why can't you use hashtags to find other bloggers? Follow or explore your niched hashtags to see which bloggers are using them and reach out afterward.
Check popular brand pages that bloggers go to regularly. You might not know which blogger would be in the comment section or being featured on the account. Tap on their username, and then send them a message.
Look who's following you! Sometimes you don't need to search far, and you can check your follower's list and see if you have a couple of bloggers on your list.
8. Engage with Your Followers
Earlier, we spoke about using CTA's to encourage engagement. Now this section will remind you why it's so important to engage with your followers, not just once in a while, but every opportunity you can get on Instagram.
Blogging on Instagram isn't enough; you need to encourage feedback through comments and likes will guide you to know which blog posts are more liked than others. If you don't know what to blog about, ask your followers in your stories using Q&A stickers or Instagram Live session.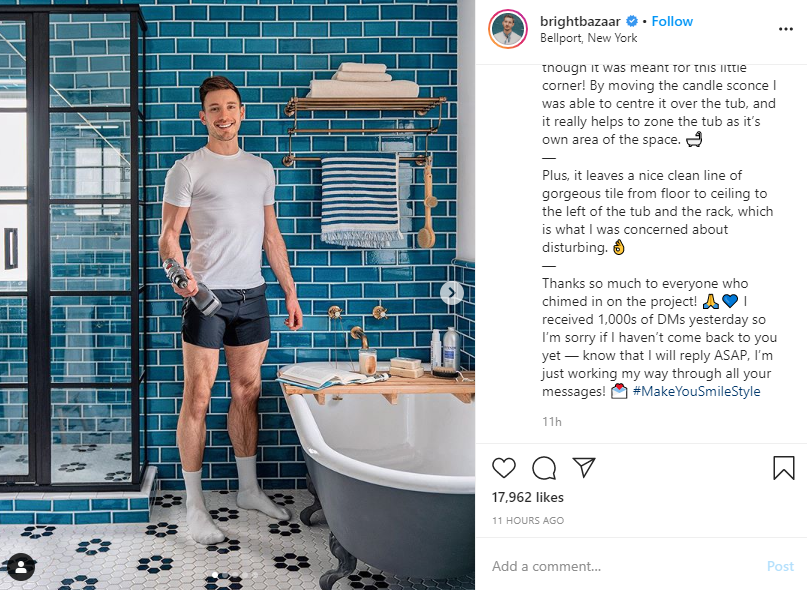 Posting content without engagement puts you in isolation. When people see that you encourage engagement and reply to comments, they're more likely to follow your account because it shows you're active and approachable and dare I say, authentic!
Maybe that's why engagement is one of the top Instagram engagement strategies to beat the algorithm.
9. Use Instagram Stories to Promote Your Post
Over 500 million Instagram stories are posted every day. You can upload content, add stickers, GIFs, emoji, and more to share with your followers for 24 hours.
Fight the Instagram algorithm by using stories to promote your Instagram blog post. Let followers now that you're going live to share some tips and promote your Instagram blog.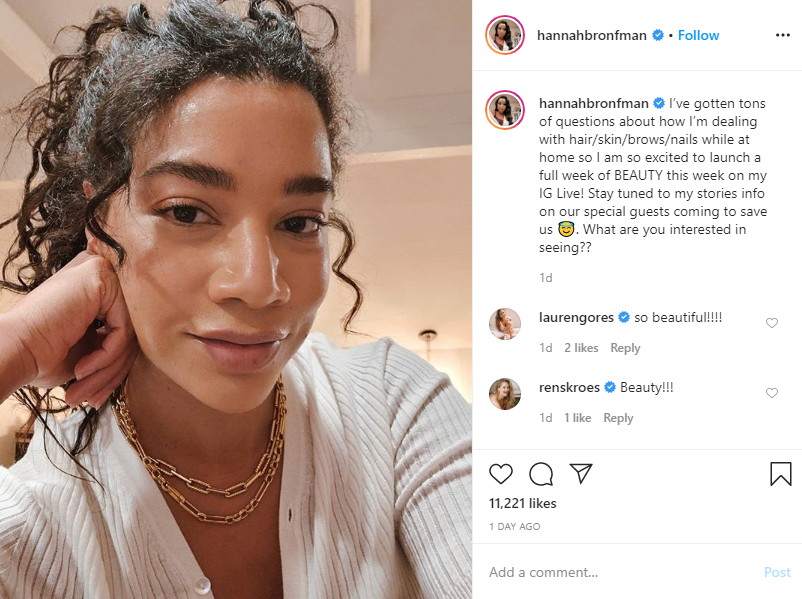 You can also add hashtags to your story to make your stories discoverable to people who aren't and are following your account. So the next time you publish a new blog post on Instagram, don't forget to share it on your story to notify followers who might have missed it in their feed.
10. Be Consistent with a Posting Schedule
Instagram users don't want to admit it, but they thrive on consistency.
If a brand post once a day, followers expect content to be signed, sealed and delivered every day. Likewise, if you post once a week or month, that's when followers will automatically expect content from you.
One of the key factors of a successful Instagram account is having a consistent posting schedule. Just like a magazine, your Instagram blog should have its own mini editorial schedule on Instagram.
If you need help scheduling your post in advance, use tools like Buffer, Hootsuite, or Later. Here are 50 Essential Social Media Tools For the Modern Marketer and the Modern Blogger.
12. Tag Brands and Add GeoTags
When you're posting your blog on Instagram, be sure to tag brands in your post and add geotags, or your location to your post. These two small but powerful tools help you to expose your brand to new viewers, brands and readers.
When you tag brands or persons included in your post, you're not only giving credit, but you're putting yourself on their radar. You increase your chances of your blogs being noticed by brands for future co-promotions, and you help your readers to find and use your favorite products or services easily.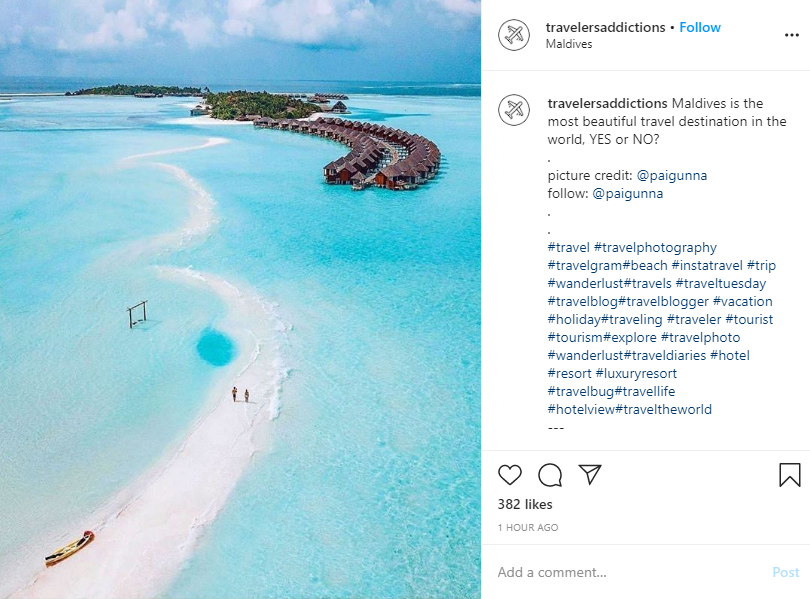 When you add geotags to post, you help people to know where you're located or where you went, and this can open the door to a conversation or engagement. And who knows, maybe a blogger or brand located in your area might reach out to meet you.
13. Review Your Instagram Content & Progress
As you start posting, be sure to review your Instagram content and process to see if your efforts are making strides. Do a content audit to see which Instagram blog posts have gotten the most engagement. It could tell you a bit about the type of content your followers really gravitate towards.
If you've been using ads to boost your post or to gain more followers, then you should review your social media ad ROI, aka return on investment, so you know that your ad spend is either helping you or going down the drain.
14. Use Cross-Posting on Other Social Media Platforms
Who says your Instagram blog has to stay on Instagram?
Start promoting your Instagram blog post by sharing it across all your social media platforms, like Facebook, Twitter, and even Pinterest.
Give your online audience a taste of what they can get if they decide to follow you on Instagram and more. Plus, you might be surprised at what you find when you start cross-posting, maybe you have a more prominent online community outside of Instagram.
Bonus: Instagram Tools
Here are four Instagram tools you should start using to make the most out of your Instagram blogging experience: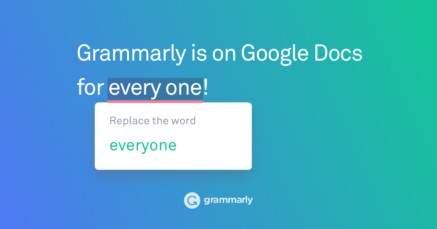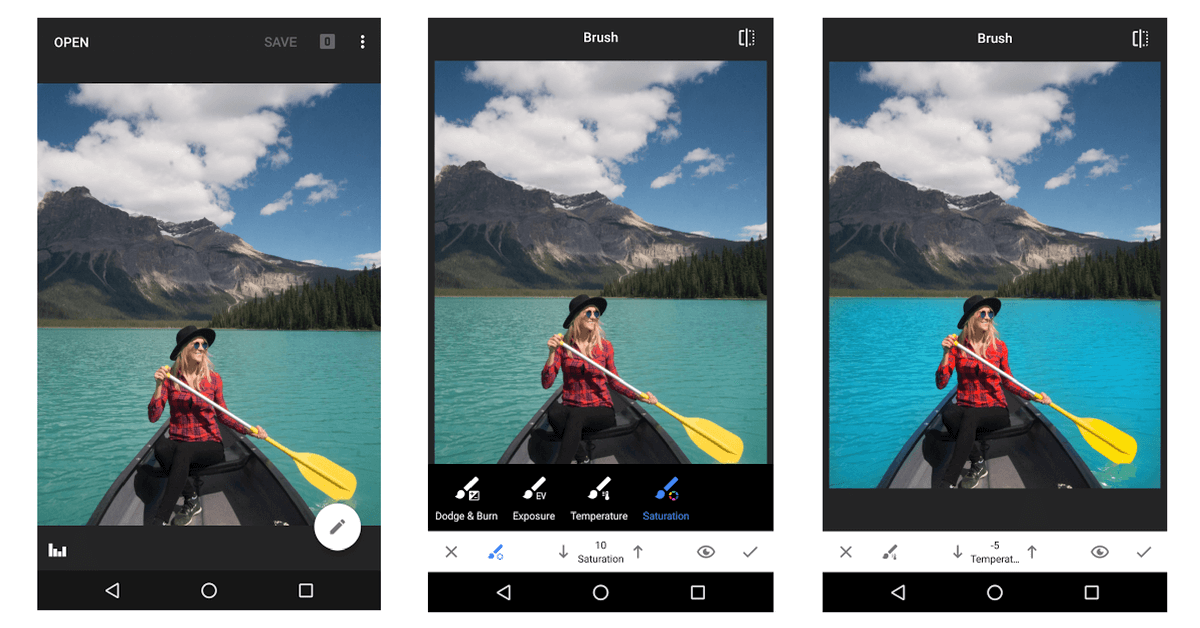 Summary
Blogging on a website and blogging on Instagram are pretty similar. The only difference is that instead of waiting for readers to come to your blog, you're bringing your blog to readers.
If you use these tips and tools over time, you'll be able to see your following on Instagram grow, and your community of readers flourish. It takes a bit of elbow grease, but once you get the ball rolling, you'll begin to see how easy blogging on Instagram can be for you.
Here's a quick recap of the 14 blogging Instagram tips and tools you can use to master the gram:
Select and Stick to Your Blogging Niche
Make Use of Your Bio & Link
Use Blogging & Relevant Hashtags
Use CTA's in Your Post
Be Authentic & Share Stories
Use Amazing Photography or Images
Connect with Fellow Bloggers
Engage with Your Followers
Use Instagram Stories to Promote Your Post
Be Consistent with a Posting Schedule
Tag Brands and Add GeoTags
Review Your Instagram Content & Progress
Use Cross-Posting on Other Social Media Platforms
via Wishpond https://ift.tt/3d9on8g
Related Articles
PS. I love you. Get inspired, educated and informed at https://shemarketplace.com
Join SheStrong #Queendom Women Empowerment group for more inspiration and support.